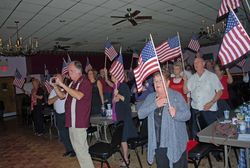 On Saturday, November 6, 2010, I was honored to perform my patriotic songs for the Pittsburgh Area Jitterbug Club at their pre-Veterans Day Dance. Forty-three (43) veterans were acknowledged and thanked by everyone during my song,

"We Give Our Thanks To You".

DJ Rich Sliger does a great job emceeing and providing flags to everyone to help honor all our veterans. My thanks to everyone involved for making me feel so welcome, in spite of my being a Cleveland Browns fan!!! But as I mentioned at the dance, when it comes to supporting our troops and honoring our veterans, we're all Americans!
To view pictures, click
HERE.