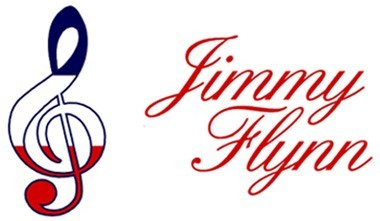 GOD    FAMILY    COUNTRY

Pittsburgh Area Jitterbug Club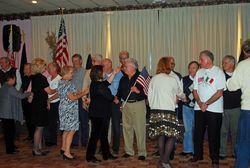 My thanks to the

Pittsburgh Area Jitterbug Club

for allowing me to perform my patriotic songs at their pre-Veterans Day dance on Saturday, November 6, 2010. Forty-three veterans were on hand as everyone else in attendance showed their appreciation for their service to our country by "walking the line" and shaking all the veterans hands during my song,
"We Give Our Thanks To You."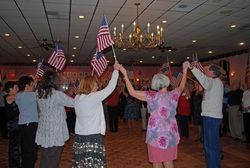 As usual we ended with a group sing-along to the incomparable Kate Smith and
"God Bless America".


We also do a great tribute to our veterans every September in North Myrtle Beach during SOS right on the beach! I'll be posting video of that shortly. Thank you Rich Sliger (DJ Radio Rich) for inviting me and I'll see you on the beach!
(Click on the pictures to enlarge and then navigate, i.e., put cursor in upper left to move to previous picture, upper right to move to next picture, extreme bottom right to close, etc.)